Wood Stair: Railing Removal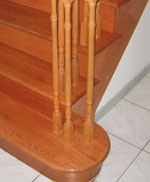 One of your first challenges if you intend to install new overlay hardwood planks on your existing stair structure is to remove the railing... that is assuming your railing is like this picture, and the spindles are mounted onto the steps themselves.
I'm all for saving your spindles and reinstalling them after the steps are completed. That is if you like the design and they are in good enough shape to salvage. If this is the case then here's a few ideas on how to make it happen.
Step #1:
This is not really step #1, at all but rather a suggestion! Do NOT remove your main posts (newel posts) or your handrail. If they are good and solid. It is just not necessary. Your steps can and will be cut around the newel. If you try and remove it, then it always seems to either get damaged or near to impossible to get it re-installed with the same degree of security.
Step #2: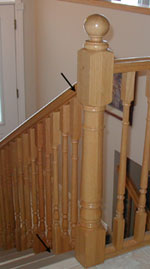 Use a flat, thin saw (typically double edged with no back spline) and with it pressed tight against the face of each step, cut the bottom end of each spindle to release it from the old stairs.
Step #3:
Start at the top step and remove the short piece of filler from the handrail. It fits between the top newel post and the first top spindle. The first piece is always the hardest to get out. A chisel usually works. If it gets damaged it is usually a fairly easy and inexpensive piece to replace.
Step #4: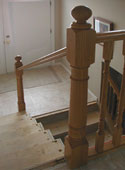 Start with the top spindle and push it towards the top newel post and it should come out. It may have been tacked in place and require a bit of a tug. Then remove the next filler piece and then the next spindle until you reach the bottom. Mark each piece in sequence to simplify re-installing all the spindles when you're done installing the new hardwood planks
Step #5:
To re-install your old spindles, trim from the bottom to the new required height and add a new dowel pin. Glue back into place starting in the reverse order, from the bottom up.